Title: Under a Painted Sky
By: Stacey Lee
Release Date: March 17, 2015
Pages: 384 (Hardcover)
Publisher: G.P. Putnam's Sons Books for Young Readers
Format: Hardcover
Source: Purchased 
Goodreads' Summary: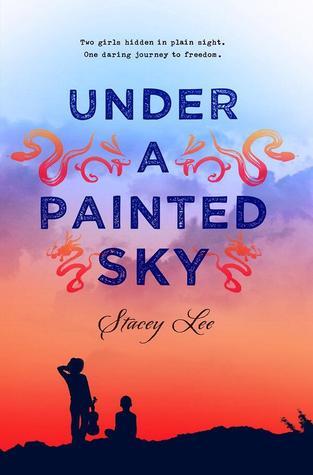 Missouri, 1849: Samantha dreams of moving back to New York to be a professional musician—not an easy thing if you're a girl, and harder still if you're Chinese. But a tragic accident dashes any hopes of fulfilling her dream, and instead, leaves her fearing for her life. With the help of a runaway slave named Annamae, Samantha flees town for the unknown frontier. But life on the Oregon Trail is unsafe for two girls, so they disguise themselves as Sammy and Andy, two boys headed for the California gold rush. Sammy and Andy forge a powerful bond as they each search for a link to their past, and struggle to avoid any unwanted attention. But when they cross paths with a band of cowboys, the light-hearted troupe turn out to be unexpected allies. With the law closing in on them and new setbacks coming each day, the girls quickly learn that there are not many places to hide on the open trail.
This beautifully written debut is an exciting adventure and heart-wrenching survival tale. But above all else, it's a story about perseverance and trust that will restore your faith in the power of friendship.
---
My Review:
I really had a hard time getting into this book (I blame my bookish slump, not the book itself). Once I made it passed the 7th chapter, I was hooked. I loved the diversity in the novel, along with the female friendship and close bond formed between Sammy and Andy, a run-away slave.
More importantly, I definitely fell in love with the Western-Oregon-Trail-and cowboyish-feel that allowed the plot to trot at a smooth pace. Several times I found myself laughing out loud at Cay's shenanigans or the witty banter that the characters throw back at each other.
This book definitely had me reminiscing on life's struggles and how through courage, family, heritage, fate, and with the help of strangers and friends, life is always worth the risks and troubles it may throw at you.
RANTS:     Even though Sammy is the main character, I think each character (West, Cay, Andy, and Peety) deserved a little more spotlight than what's already given in the book; maybe a few more paragraphs highlighting their past would satisfy me. I was ingrained in each of these characters, and would love to read a possible companion novel of Cay's shenanigans or Andy and Peety's next adventure. 
RAVES:     This book will take you on an adventure through the Wild West, reminiscing about the good ole days playing Oregon Trail–hunting animals for your family, crossing dangerous terrain, being on the lookout for robbers, and curing the ailments of cholera. For a young adult, Sammy has to deal with a lot of struggles and troubles. Her knack to pick up the swagger of a cow"boy" and answer life's questions with her Chinese heritage, medicinal knowledge, and beliefs are both empowering and delightful. 
NOTE:          All statements and opinions are mine.